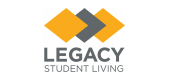 Your Review
Submit a Review

Resident Reviews
|Recommended: YesChill — It's pretty chill other than visitor parking, that is a mess.
|Recommended: NoGreat Place - Few Issues — Overall, the best 1 1 in Tallahassee for the price and location. Despite this, every property has its issues. Specifically at Legacy, one of the most commonly swept under the rug problem is the bugs in the 1 1 building. Its to my understanding different parts of the building experience different issues, however, living on the first floor has become horrendous due to this problem. Pest control and maintenance both use the same logic of oh, its an old building but quite literally... the amount of roaches I have had to kill in my apartment is baffling. I'm not sure if residency in such a place should even be allowed by the City.
|Recommended: NoNice but no help with Corona — I would tell them not to pay a penny until the school is 100 going to reopen. Legacy should offer 1 2 off rent since my student can't live there, campus is closed. We are not using the parking, pool trash or maintenance yet we are being asked to pay 100 percent of rent.
|Recommended: YesGood — Really nice and close to campus
|Recommended: YesGreat Location, Mediocre Service — If you want your friend to come over, good luck finding a visitor's parking spot. Out of the hundreds of parking spots, only 8 exist for guests, or else they get towed IMMEDIATELY. Also, there is trash in the walkways that will stay for weeks and the elevator needs to be cleaned. If any of your personal items is vandalized or stolen Good luck getting justice. They have very few cameras and the staff at the office don't know how to give police whatever recorded video they have. The apartments have multiple light switches that aren't connected to anything, so you have no actual light for the living room. Your walls are super thin so you can hear a pin drop. If your internet goes out, it takes two days to get it back not great when everything switched to online because of Covid-19 . However, the internet is the fastest, you can walk easily to campus and any student-friendly restaurant, and it's right next to a nice nature trail.
|Recommended: YesGreat little apartment for the price and location — Not a whole lot of living room space, but the bedrooms are quite big compared to other apartments. It is a great distance from campus especially if your classes are usually in the science buildings The staff are always friendly, and the amenities are nice and well kept. The only complaint I can think of is the lack of visitor parking, considering we share the garage with other apartments.
|Recommended: YesI like it, it is a nice complex — My favorite part with legacy is your own room, it is very big. You also have your own bathroom which is great.
|Recommended: YesI enjoy living here — Legacy is a great complex. Just beware of animal waste that no one cleans up and the noise from people returning from bars.
|Recommended: YesNice — it a nice place close to the school and the people here are friendly
|Recommended: YesPretty Good — We have had a couple of problems, mostly plumbing-related, but the maintenance staff is really on top of things. It's nice for the price, the kitchen is a little small but the rooms and bathrooms are big. The living room can comfortably fit like 3-4 people for small gatherings. I rarely hear the neighbors upstairs and I don't think I have heard the people next door at all. The only thing that kind of sucks is the business center sometimes is really crowded and loud and my key has not worked all year. My computer was broken for a while, so it was a real problem because I had to borrow my roommates' keys and sometimes when I went in there were no chairs available. It was just full of people who already have laptops sitting at the table and talking so loud. I usually only went at night because I would get off work around 11 pm and I did not want to go all the way to the campus library so late. But that also meant no staff could let me in if no one was there or my roommates were asleep. I did tell them several times that my key did not work but I think they were having technical issues. They would always tell me they would fix it or people were coming soon to fix it but I don't know because it still does not work. I don't think it was the people at the front desk's fault, but it was still annoying. So I would say just be aware of that if you plan on using the business center often, but I think most people just go to print things. The printer is nice. Sometimes it was broken, but the people in the office would print things for you if that was the case.
|Recommended: YesTHE BEST LOCATION FOR SCHOOL — I REALLY LIKE IT. THE ONLY PROBLEM I HAVE IT IS UNABLE TO HAVE PARKING FOR MY FAMILY WHEN THEY COME TO VISIT ME.
|Recommended: YesQuiet, beautiful and budget friendly complex — Legacy Student Living is a great option for anyone who is wanting to be close to the FSU campus, close to grocery and food options and who has a budget to stick to. The staff is always willing to help and the grounds are kept clean Parking is hassle-free and the units are beautiful. Great complex
|Recommended: YesGreat First Apartment — Legacy is welcoming, quiet, close to campus, pet friendly, safe, and an all-around great place to live. The bedrooms are large and the staff is friendly. There is also adequate parking except for guests and the amenities are great. The maintenance staff is also very friendly and quick to fix any issues with the exception of the move-in week which is always crazy . A covered bike rack would be nice but is by no means a deal-breaker. I would definitely recommend Legacy to anyone.
|Recommended: YesHome. — My favorite thing about my unit is how spacious the bedrooms and bathrooms are. I love how pet friendly the community is. However the best thing has to be the staff. Maintenance is so quick and efficient. The office is always on point when it comes to answering questions. The manager is sweet and personable. There has never been an issue that was not resolved. This has been the best place I have lived in while I have been in Tallahassee.