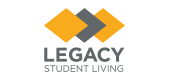 Your Review
Submit a Review

Resident Reviews
|

Recommended: Yes
Thank you for the feedback Sophia ! You can always stop by the office to discuss the ac !
|Recommended: Yes
Living — quality living, very clean as well, I would recommend anyone to live here.
Thank you so much Salvatore for your feedback. We are so happy your experience at Legacy has been great so far. - Leg Fam
|Recommended: Yes
I love it here — Legacy is the first apartment that felt like I was able to make it my home.
Thank you Renelle for your feedback !! Legacy has that perfect cozy home feeling !
|Recommended: Yes
Legacy Student Living Fall 2023 Review — Moved in Fall 2023. I am overall satisfied with my experience at Legacy Student Living. The only complaint I have is that I received my apartment with a faulty kitchen 2 of the 4 heating stoves are not working and that the couches are falling apart. The couches' synthetic leather is peeling off. It is unpleasant to be in the living room as a result of this.
Thank you Alberto for your feedback you can call and put in a maintenance work order and we can fix it !!
|Recommended: Yes
Legacy Review — If you are looking for decently big apartments in a good and safe spot in Tally, Legacy is the place. Walls are also thicker than most apartments which helps reduce noise. Also their parking availability is very good, id say is the best out of all the other apartment complexes.
Hi David! Thank you for all the positive feedback we greatly appreciate it and we are so glad that you are happy with your apartment! Make sure you are following our social media to keep an eye on all the events we have coming up!
|Recommended: Yes
Great place for students — Legacy is just across the road from FSU campus. The apartments are cute, the bedrooms are large with lots of space to put things. The kitchen is on the smaller size but good for 2 people.
Hi Victoria! Thanks for the 4-star review and the positive feedback! We are glad you like it here, but let us know what we can do to bump it 5 stars! Love, your Legacy Fam!
|Recommended: Yes
Natalie Deprospero — So far so good. All the staff here have been very welcoming and extremely helpful.
Hey Natalie! We are so glad you are loving your new home and we are always happy to help! Love, Legacy
|Recommended: Yes
Recommendation — Highly recommend
Hey Kristyna! Thanks for the review. Let us know if there is anything that we can help with. -Legacy Team
|Recommended: Yes
I love living here as it is very close to campus and a perfect living size for me
Thanks for your feedback, Catalina! Our location really is the best and our bedrooms are so spacious!
|Recommended: Yes
Hesitate — I think this is a great complex for the price, but if you aren't on top of your paperwork, management will scam you.
Leza, We are glad you're happy here! If you're having issues with any paperwork, please let us know so we can handle ASAP, for you! -Your Legacy Team
|Recommended: Yes
I am a new resident at Legacy and would undoubtedly encourage anyone looking for a place to live to consider Legacy Student Living. Both complexes are well maintained, clean, and fully functional. The staff is wonderful and does a phenomenal job at being attentive to their residents. The units are almost identical to what you will see online, and the amenities are fantastic Overall, Legacy Student Living is one of the best in Tallahassee
Thank you for your review, Nicole! We're so glad that you love living here at Legacy! We hope to be a highlight in your college experience!
|Recommended: Yes
So far so good — staff always prompt to help and courteous.
Hey Giovanna! We appreciate your review! Thanks and let us know if you ever need anything!
|Recommended: No
Review — Review
Hey Emily! Thanks for the review. If you have any issues concerning your unit or our complex, please let us know! We'd be glad to get any issues resolved!
|Recommended: Yes
Best apartment to rental — I recommend 💯
Thank you for the great review! We're glad you're here!
|Recommended: Yes
Overall A Really Nice Place to Live — Everyone working for the property is incredibly helpful and addresses issues as quickly and efficiently as they can. The maintenance staff doesn't give warnings before showing up most of the time, though. My only other complaint is that you can hear conversations through the walls usually, but that's about the same with the dorms at least, I don't know about most apartments. The buildings are always pretty clean and well kept, parking is available pretty easily, and the rooms are very spacious. The bathroom has a lot of storage space and moving space. The bedroom allows room for a queen bed, furniture, and still open moving space. The living room is pretty spacious and allows space and seating for a decent number of guests. Unfortunately, all of the space allowed for everything else takes away from kitchen space. So, if you plan to be cooking a lot and want a lot of space to store things to do so, it's not the ideal space. It does serve it's purpose as a kitchen, though.
Hey Lindsey! Thank you so much for your review! We appreciate the feedback!