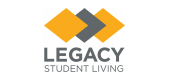 Your Review
Submit a Review

Resident Reviews
|Recommended: YesVery nice — Overall I love living here, it is very clean except for all the dog poop everywhere.
|Recommended: YesIt's a great place to live at I would definitely recommend. — I actually love living here. I feel safe and at home.
|Recommended: YesAMAZING PLACE TO LIVE — Living here has been great I lived at Quantum last year, and although that property is newer, I have had only good experiences here at legacy thus far. To start, the staff here is amazing and is always willing to help, which is a huge plus for me. The 1 bedrooms are nice and I loved having the option to bring my own furniture and make it my own space. There is never any issues with parking and there is even plenty of guest parking. The buildings are always clean and I never have any noise issues. The only downside is the AC since there is not an actual AC unit in the bedroom, but I have remedied this by buying a cheap box fan and I no longer have any issue with the room being too warm.
|Recommended: YesApartment complex — Great place to live.
|Recommended: YesGood Place to LIve — overall great place to live, very quiet
|Recommended: YesGreat — Great place to live if you are in college or just out of college
|Recommended: YesGreat complex I love the parking garage and set up — Great location, close to everything. Pet friendly. Very spacious rooms with washer and dryer in unit. Maintenance staff is fantastic and timely.
|Recommended: YesMy review — It's pretty good , the parking gets annoying but the apartment is pretty good.
|Recommended: YesAwesome Experience — I was worried before coming from Pakistan about the amenities any apartment could offer. I could not find any student housing apartment which offers cost effective all amenities. I made a perfect decision which relieved me of all the tension which any new-comer has.
|Recommended: YesGreat, Beautiful, Love It — Really close to campus, great parking. Maintenance is amazingly fast.
|Recommended: YesGood place to live — It is a nice place to live if you are a fsu student, close to campus and bus stops, restaurants and grocery stores.
|Recommended: YesGood place to live — Nice place, good location and courteous staff
|Recommended: YesAMAZING — I love living at legacy I always feel safe and comfortable in my apartment and walking around All of the office and maintenance staff are super friendly and helpful. Move in went very smooth even during the confusion of the pandemic and they are extremely accommodating. Rent is a fair price compared to other equally nice and close to campus apartments plus the bedrooms are like master suites. So happy I chose to live here.
|Recommended: YesI think this community is great so far — I have only been here a little over a week, but so far it's the best place I've lived in since I came to Tallahassee 4 years ago. Moving in, my apartment was already spotless and ready to be lived in. The pool and everything around it is very well maintained. Maintenance is around to fix any issues within a day. The only real issue I have with this place is visitor parking. As there are three complexes using the garage, there should be more than 12 visitor spots in it. This is a very minor problem at the end of the day, so I would definitely recommend here.